One of the biggest challenges to working on your riding position is knowing where to start. While fitting your bike can seem quite simple on the surface, all of the adjustments you make have the potential to interact with each other. Knowing which order to tackle each adjustment will help you avoid chasing your tail and getting stuck in a never ending cycle of changes that seemingly just cancel each other out.
For those of you looking to get straight to the goods, here is the order we recommend when tackling your fit:
Cleat Position
Saddle Position
Grip Position
Go Ride 
Follow Up
Read on if you're interested in a more detailed breakdown of what's included in each step and why.
#1 Feet Before Fit
We always recommend starting a bike fit with your feet. So much so that we've got a
whole article
dedicated to everything you should consider to set yourself up for success. At the very least, setting your cleat position should happen before you hop on the bike. Your cleat placement, particularly the fore-aft adjustment, has an impact on your effective saddle height.  Setting cleat position before digging into the rest of your fit will help avoid having to backtrack down the road.

It's possible that some fine tuning of your lateral cleat placement and rotation may need to happen after you've figured out your saddle height, but this won't impact your other adjustments so can be addressed along the way as needed. 
#2 Start With The Saddle 

Your saddle position is the foundation of your fit, so getting it right is the first major step in dialing in your riding position. It's easy to think that setting your saddle position is a no brainer, but it's actually three separate adjustments:
Saddle Tilt
Saddle Height
Saddle Fore-aft
Saddle tilt can be the cause of all sorts of discomfort when done incorrectly, so always start this process with a level saddle. A perfectly level saddle may not be where you end up, but it's an important starting place for setting your height and fore/aft. You can revisit tilt after the height and fore-aft adjustments are set to make any final minor tweaks.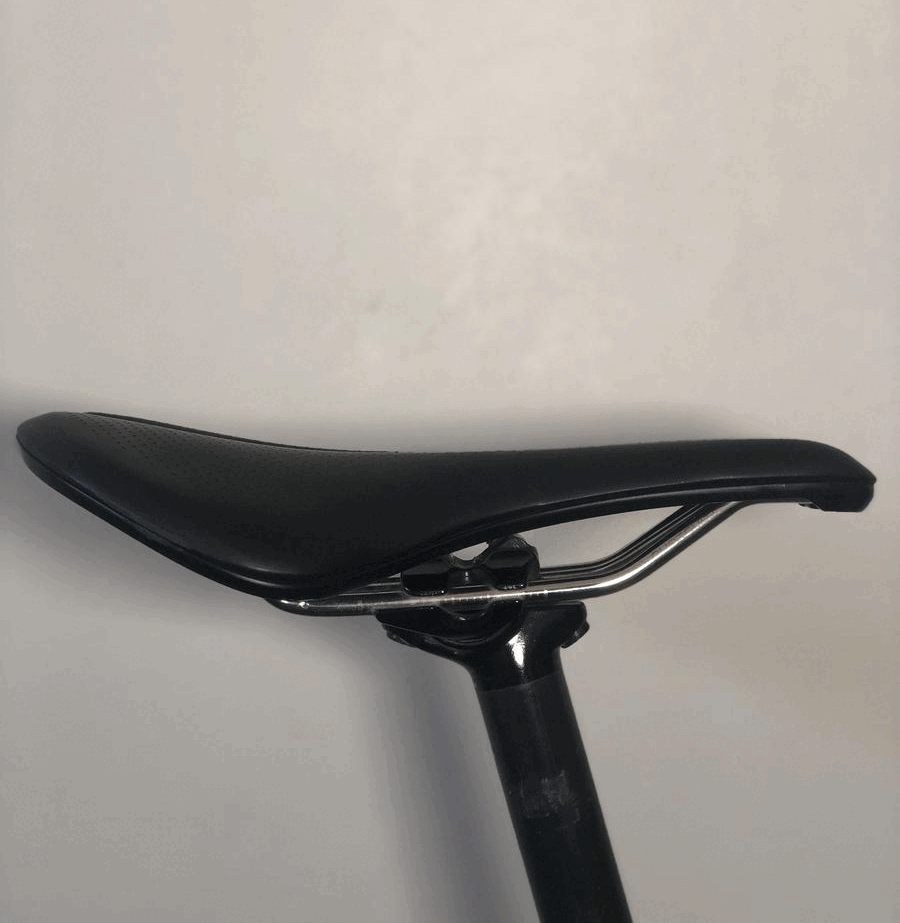 Saddle height
is probably the most important adjustment of your whole fit and, when set incorrectly, the cause of many issues. Unsurprisingly, this also means it's the subject of much debate and also has
many myths
that surround it. Saddle height and fore-aft have the most interaction between them of any two adjustments, so paying attention here is important. Only once you're happy with your saddle height should you move on to fore-aft adjustments.
Saddle fore-aft adjustments are often overlooked and sometimes ignored altogether. A properly set fore-aft saddle position will help you feel more balanced on the bike and transfer power effectively through the pedals. Ing general, moving your saddle aft tends to take weight off your hands, while moving it fore, pushes your weight over the front of the bike.  
Adjusting the fore-aft position of your saddle has an impact on your effective saddle height, so this is where some riders get into trouble adjusting both at the same time. Whenever you make significant fore-aft adjustments it's always important to recheck your saddle height. Moving your saddle back (aft) has the effect of increasing saddle height and moving it forward (fore) effectively reduces saddle height. You may find a small adjustment to saddle height is needed to get back to where you want to be. 
#3 Adjust Handlebars
Once you've gotten your seat in the right place the next step is to adjust your handlebar/grip position. In the most basic sense, this involves raising or lowering your stem to adjust height, or changing it out with a longer or shorter option to adjust reach. However, there are a few ways to adjust and fine tune your reach, so check out the
best ways to adjust reach on your bike
. 
For riders on a bike drop bars, consider the rotation of your handlebar and position of the hoods prior to making any significant changes. Similar to saddle tilt, starting with a neutral bar rotation and hood position is important when setting up your handlebar height and reach. Our article on
Bicycle Hood Positioni
ng outlines everything you should consider. 
Adjust Height or Reach First?
When it comes to making stack or reach adjustments, there is no hard and fast rule for which to do first. The reality is that you can go about doing both at the same time, but we like to take a more pragmatic approach. For most bikes, adjusting the height (moving the stem up/down) is much easier than the reach (changing stems), so we advise starting here.
Once your bar height is within the range you're looking for, then move on to adjusting reach. If you've read
the best ways to adjust reach on your bike
it should be clear that adjusting reach can be a bit of a hassle. Luckily for many riders, their reach starts out too long, so sliding your hands back on the hoods/bars can be a good way to simulate a shorter stem before you actually make the switch. Having an idea of how much your reach is too long or too short using tools like
MyVeloFit
will give you a better sense of what changes need to be made.     
#4 Ride Your Bike
This can't be overstated enough, your fit isn't done until you've settled into the new position. Depending on the size of the changes made, it can take many rider's two weeks of riding for their bodies to adapt and figure out if the position is working for them. Some adjustments, like lowering saddle height, are more challenging to adapt to than others so taking time to let your body settle is critical. Finally, there are likely to be a few small tweaks needed that you just won't notice until you get outside and ride. While you can get the vast majority of the way to a great position at home on your trainer, there is something different about riding your bike outside that will help you find the setup that feels just right.  
During this adaptation phase, minor aches and pains can be completely normal, especially if you've made major changes. However, if you have significant pain after making the adjustments we recommend shifting back towards your original position to help ease the transition. Some changes are better made a little at a time. If the discomfort persists, this is a great time to seek the advise of a professional fitter. The hardest time to have a successful bike fit is once you're already injured, so staying on top of you fit is a great way to keep the injuries at bay. 
#5 Follow Up
We recommend you follow up on your position at least once a year; sooner if you've experienced any significant fitness, mobility or weight changes. Why? Though your bike probably hasn't changed, your body almost certainly has, even if only a little. Taking the time to evaluate your position, think about if you have any new pains or issues while riding, can help you further tune your fit to make sure you're feeling as good as possible on your rides.