We often get asked "What race bike should I buy?" and our answer is "The one with the features and benefits that meet your needs and budget but most importantly fits you well." Here we will look at 5 of the most popular race bikes on the market and compare how they fit.

When comparing bikes of any kind many of the top models are often equal in terms of features and benefits. While there may be discrepancies in price and features which may influence your purchasing decision, the most important consideration when buying a bike should always be how it fits. As we covered in this post on bike sizing, bikes can be listed as the same size but fit completely differently. Our sizing tool allows you to compare how you fit across multiple bikes to help determine which is the best bike for you.
What is an "all-round race bike"? Recently there has been a split into three main categories of road bike.
"Aero" bikes
are bikes designed to be as aerodynamic as possible. "Endurance" bikes are designed to be as comfortable as possible. And lastly "All-Round" bikes, which used to be segmented as "lightweight" or "climbing" climbing bikes. Each of these bikes has some consideration of aerodynamics so we feel that classifying them purely as a climbing or lightweight bike is no longer fair. Infact, the Specialized Tarmac SL 7 claims to be more aerodynamic than Specialized's own Aero bike the Venge, which they retired with the announcement of the new Tarmac.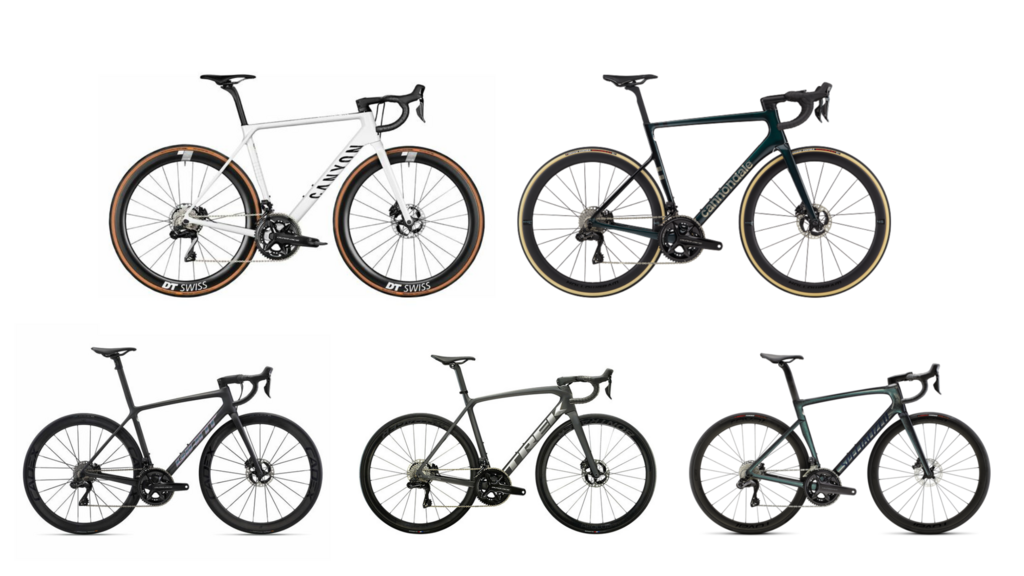 Fit Geometry Comparison:
Below is a graph consisting of the stack and reach of each model. While it doesn't tell the full story of how each bike will fit, it does provide an apples to apples comparison of what the baseline fit geometry looks like. If you are unfamiliar with stack and reach or its influence on fit check out our post on
Fit Geometry
.

Key Takeaways:
Canyon Ultimate Fit and Sizing: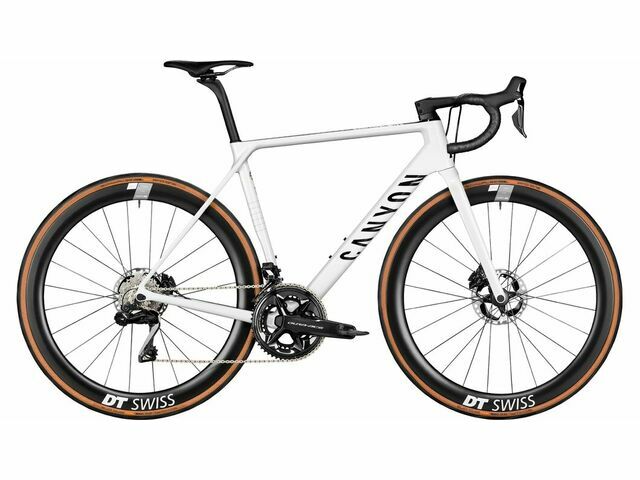 The Canyon Ultimate has one of the widest ranges of sizes in this comparison with seven sizes ranging from 2XS to 2XL*. Their two largest sizes are significantly larger than any other model in this comparison and their 2XS is one of the smallest models available. It is worth noting the rather large jump between sizes Large and Extra Large so if you are debating between these two sizes be careful with the big jump in fit. Given how large these bikes get the XL and 2XL are good options if you are a very tall rider.

* Not every trim level of the Ultimate is available in every size.


Cannondale SuperSix Evo Fit and Sizing: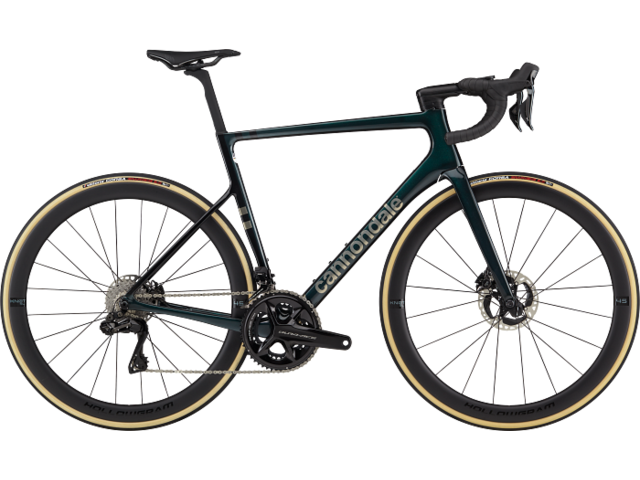 The Cannondale SuperSix EVO has eight sizes ranging 44cm to 62cm and is the least aggressive bike in this comparison, meaning it has a shorter reach and taller stack making the rider less stretched out and more upright than the other bikes. In general we like this approach to geometry - even with race bikes we feel that bike geometries are too aggressive for the average person. The progressive approach to bike geometry means this is a very versatile bike and fits a wide range of riders, but is a great choice for riders who want a race bike but can't get into a very aggressive position.
Trek Emonda Fit and Sizing: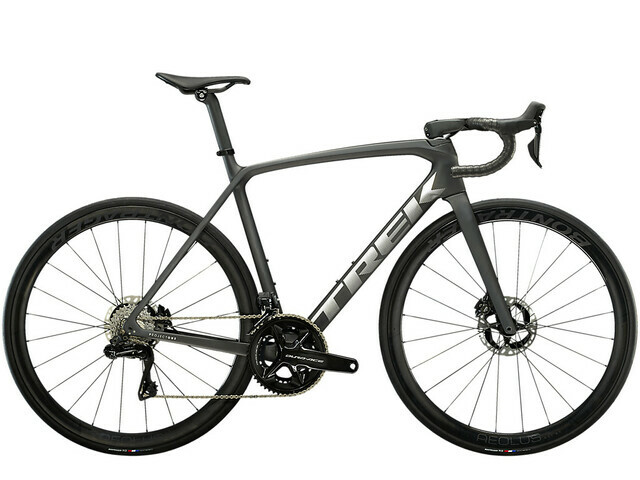 The Trek Emonda SL/SLR (note: the ALR has a different geometry) has eight sizes ranging from 47cm to 62cm. The Emonda has the smallest variance in size from biggest to smallest meaning you are more likely to fit more than one size of this bike compared to the other bikes in this comparison. The smallest Trek Emonda (47cm) is larger than any offering from the other brands in this comparison other than the Giant TCR so if you are a smaller rider you might want to consider one of the other bikes offered here.
Giant TCR Fit and Sizing: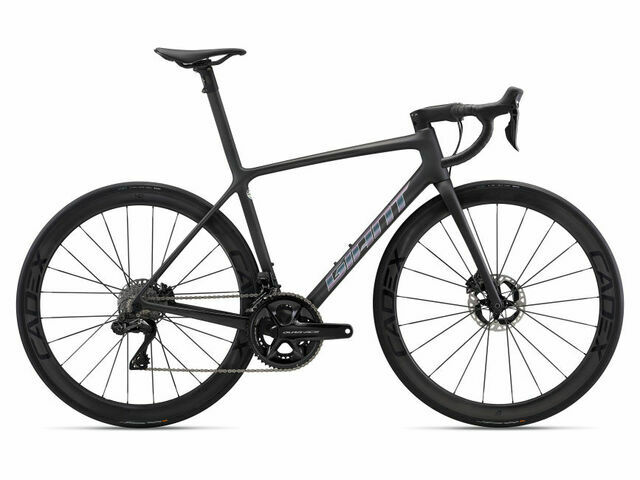 The Giant TCR Advanced has six sizes ranging from XS to XL. Ths small number of sizes means the bike is limited in its overall breadth of fit and has relatively large jumps in sizing compared to the other models which have seven or eight sizes to fit you. It's smallest size, the XS, is also larger than any of the small sizes offered by the other models compared here.
Specialized Tarmac SL7 Fit and Sizing: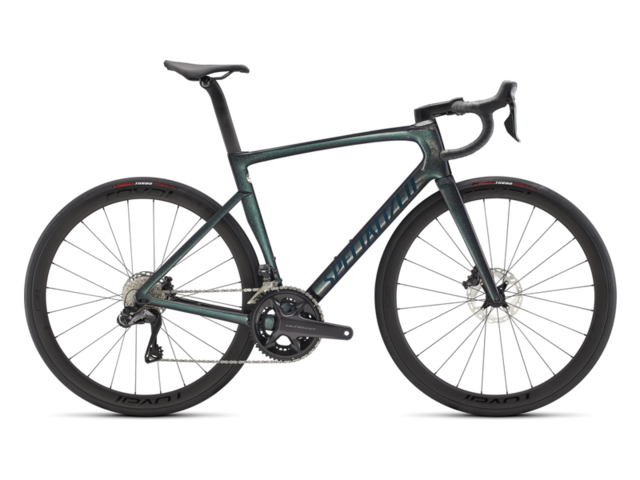 The Specialized Tarmac SL 7 is the most aggressive bike in this comparison. It comes in seven sizes that run from 44cm to 61cm. The 44cm Tarmac SL7 is the smallest bike available in this comparison. Generally the Tarmac has consistent jumps between sizes other than a rather large jump between 54cm and 56cm. The reach variance between these two sizes is comparable to the reach difference across three sizes (54, 56, 58) in the Trek Emonda and Cannondale SuperSix evo. Outside of this jump the rest of the sizes have more consistent variance. If you are between a 54cm and 56cm on this bike consider looking at the 56cm Emonda or Super Six or Medium Canyon Ultimate.