There are some rides that grab your attention and just won't let you look away. When the Rift launched in 2019 it certainly caught my eye, but I wasn't yet fully committed to the idea of jumping on a plane to Iceland for a gravel race. Well, sometimes life has other plans, and my significant other had decided this was something we definitely had to do, so it looked as though we would be ramping up to tackle the Rift in 2020.
The world also had other plans in store for us and we ended up having to wait two long years to finally catch that plane to Iceland to tackle the Rift. In the meantime I had managed to suffer a full achilles rupture (playing soccer) which curtailed any training, and certainly had me wondering if I would actually get to ride the Rift after all. With rehab going well this spring and our travel bug raging, it was full steam ahead to Iceland hoping for the best.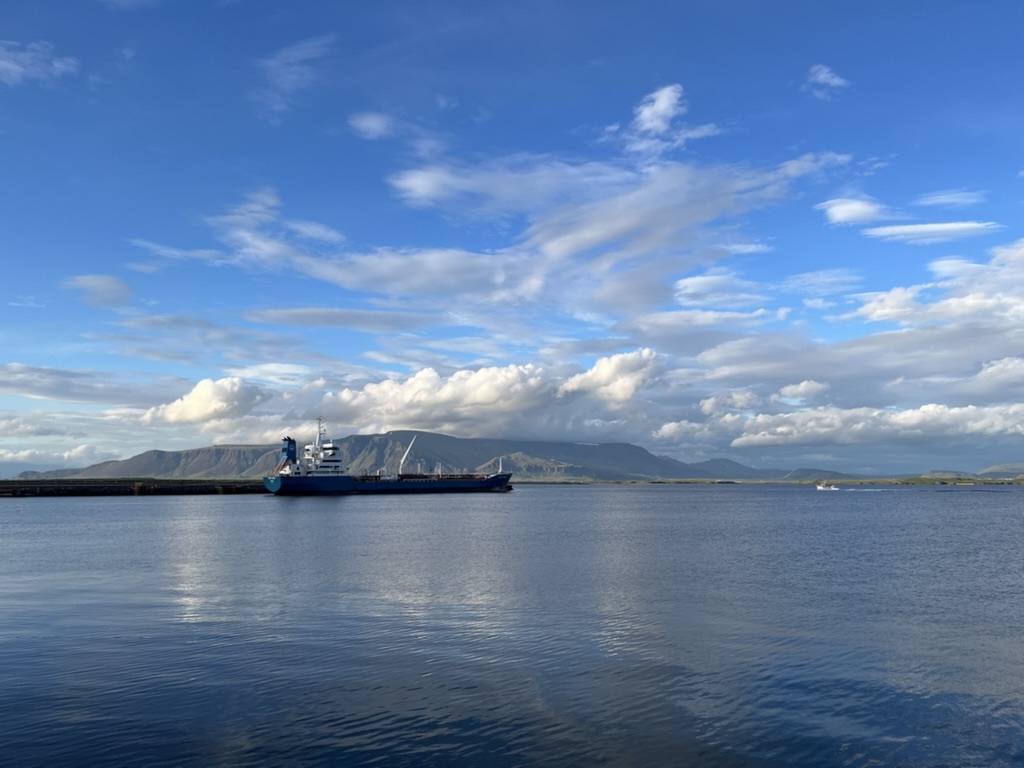 The Ride
The course this year was 206km with ~1800m of elevation and almost entirely "gravel". I think many of us have figured out by this point that "gravel" spans a pretty wide range of surfaces, from some of the smoothest roads you can ride, to sections that are questionably passable. The Rift course certainly had it all, with a few sections really testing the upper limits of what one might define as gravel. Needless to say this was not a cruise through the Icelandic highlands, but rather a multi-surface test putting both my body and mind through their paces.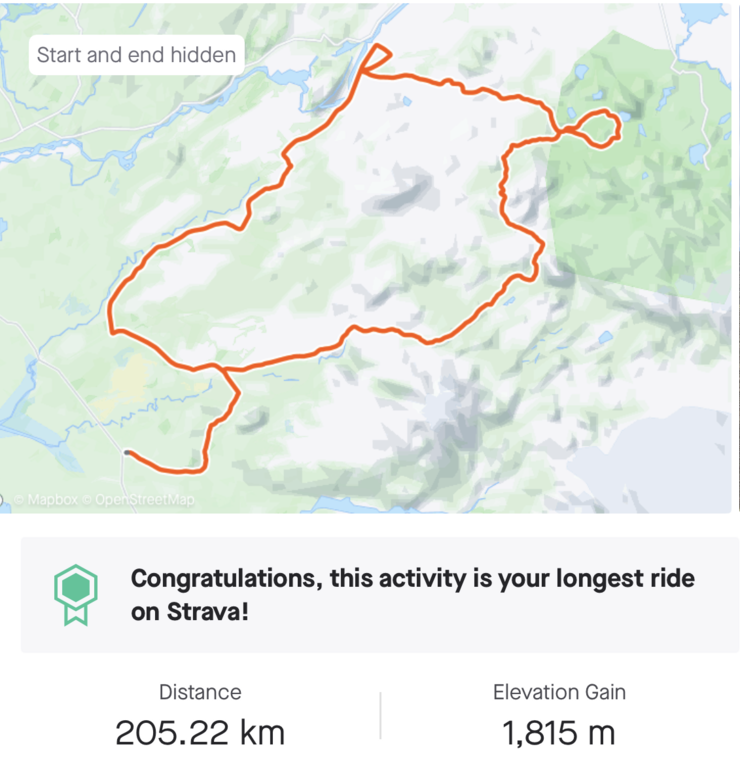 The ride started with a rolling neutral start, which may not have been full gas for the get go, but they certainly let the front of the race stretch their legs. Depending on your ambitions, the first few km of pavement were a great place to move your way up, or settle in with a group that seemed to be riding your speed. Despite repeated reminders to pace myself, the devil on my shoulder couldn't help but push me on toward the front.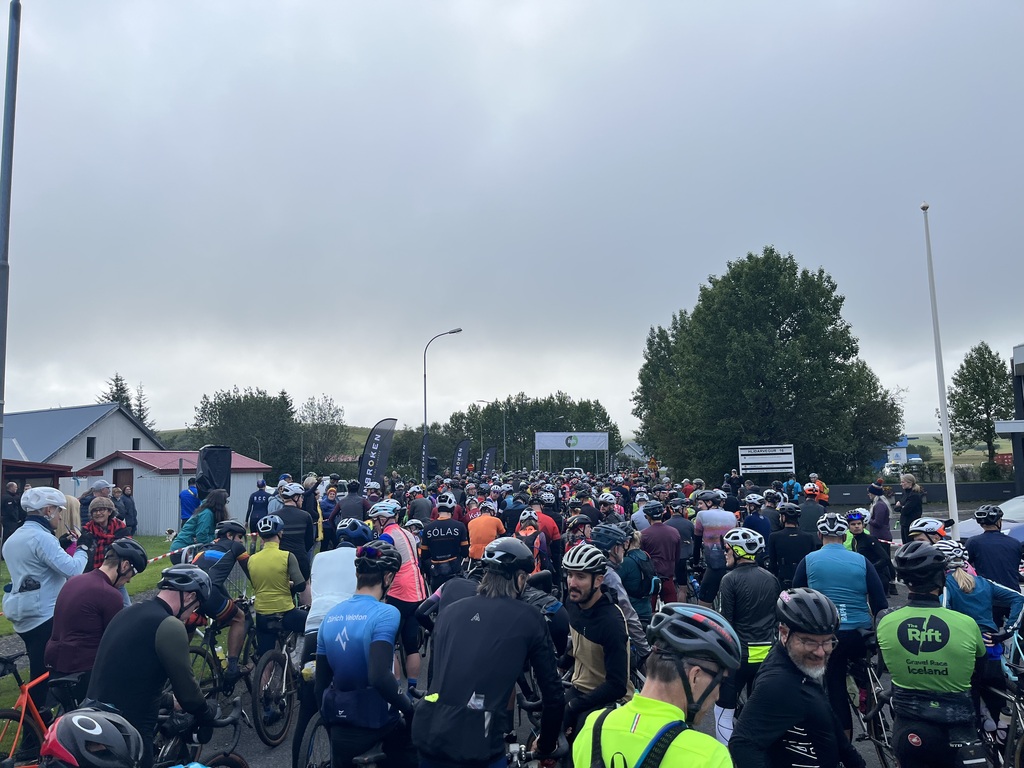 Once we hit the dirt, the opportunities to pass and move were much more limited. Most of these roads fell firmly in the doubletrack category, with only two well established lines at best. The crown of the road was often loose, with sizeable stones to kick up when crossing back and forth. Making moves in this part of the ride certainly required decisive action as there were still riders all around.


I'm not here to spoil the ride or tell you every inch of the course, so I'll break down the ride into what i experiences as two main parts: 
The Beat Down
The Long Haul. 
The first 60% of the course (~120km), which I affectionately refer to as the Beat Down, is by far where the ride shines. The surfaces are varied, the views are EPIC, and you're constantly waiting for what's around the next corner or over the next hill. The course profile doesn't lie, and you accomplish about 90% of the total elevation gain (~1600m) in this part of the course and largely in the first 90km. So it's mostly up (though rolling), covers the gnarliest surfaces they can throw at you, but keeps you motivated with the otherworldly views and some incredibly fast and flowy sections.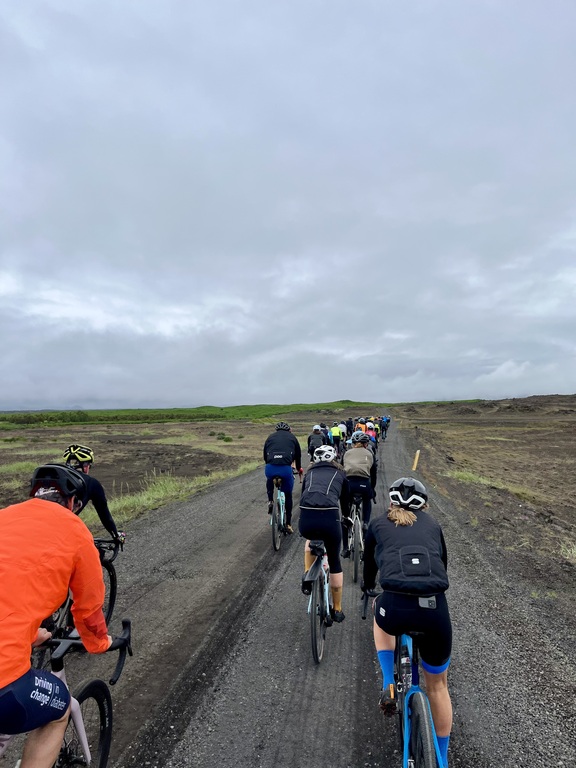 This section of course begged me to push harder and I obliged. Inevitably this caught up with me with an all too common realization that my legs were starting to fatigue and we were only a quarter of the way through. With a slight recalibration of pace, this section kept the goods coming with fast twisting descents worthy of the efforts needed for the climbs.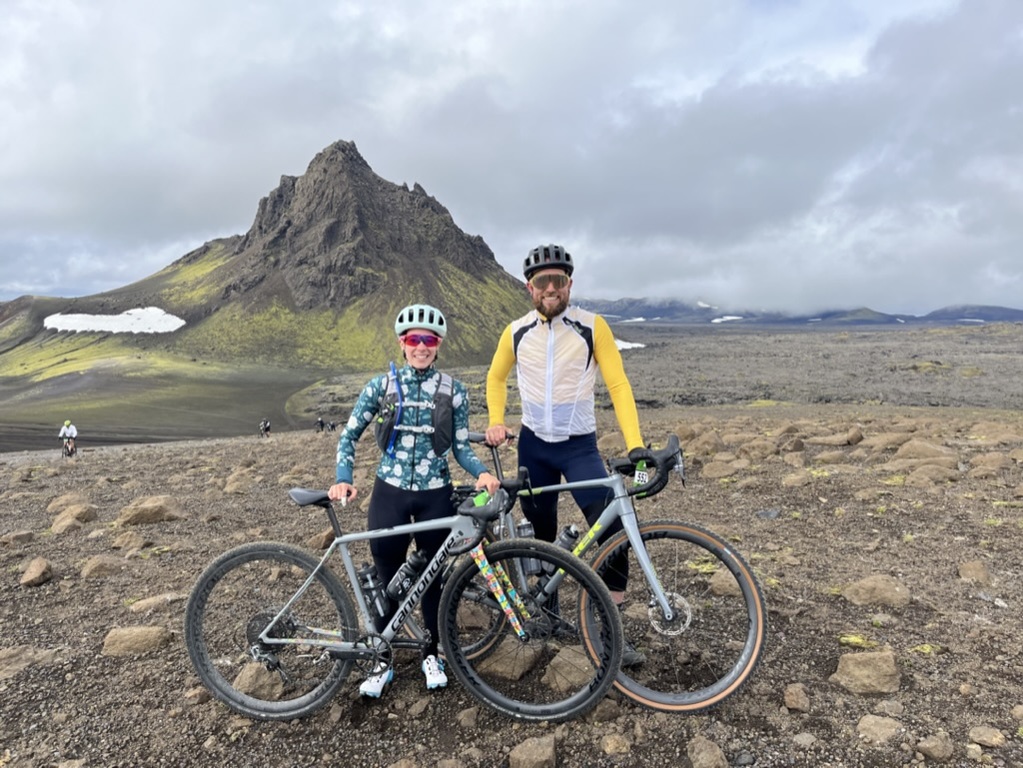 This section of the Rift famously has several river/water crossings, the exact number I can't recall, but I would put it close to ten. Going into the event, my own misplaced confidence had me thinking that I could potentially ride them all, though this notion was quickly dispelled by the first water crossing on course. Watching the front of the group shoulder their bikes and walk through with water up to their knees quickly brought my ambitions back down to earth. I do credit the few brave souls that still attempted to ride across, none successful and resulting in various degrees of wetness. Later water crossings were entirely rideable, but escaping the deepest few was not an option. Though soaking wet feet at 12° doesn't sound like a recipe for success, I was surprised at how quickly they warmed back up and how little I noticed once back on the bike.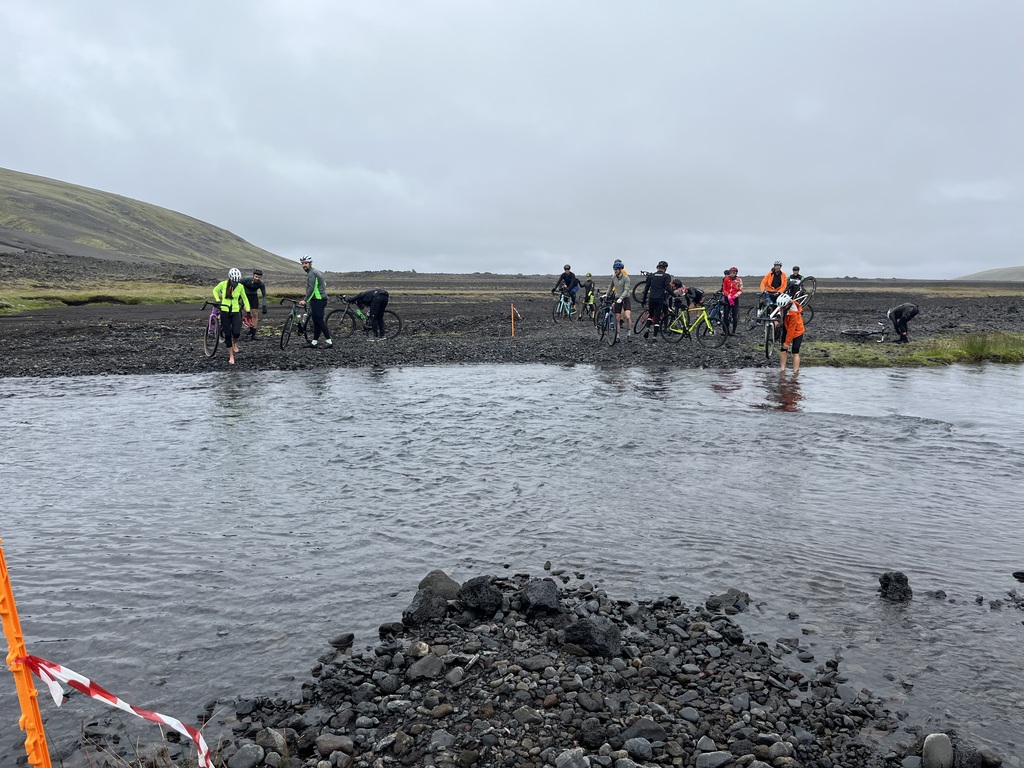 With this first section of the race behind us, we transition to the Long Haul. After some of the most epic views, punishing surfaces, and the bulk of the climbing, my body and mind was ready for a bit of a reprieve. Luckily, this section kicked off with a nice stretch of pavement, which was a welcome sight and feeling after working for every meter for the last many hours. However, the knowledge that the climbing was mostly behind us provided a false sense of hope. What laid ahead was not necessarily physically testing, but a mental challenge of persistence. Seemingly never ending rolling roads of loose gravel and washboards laid ahead. Every pedal stroke seemed as though it should push me further than it did and the surface was just rough enough to stop me getting fully comfortable. If there was ever a road that defined a "grind" this was it. Luckily the carrot of completing The Rift was strong enough at this point to keep us pushing through. As the kms ticked away we could taste the finish and the reprieve of getting off our bikes.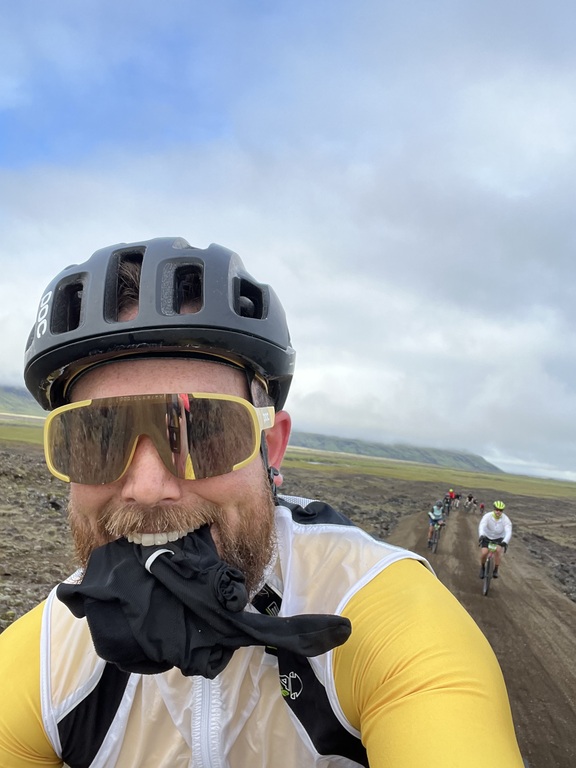 As if the day had not tested our mind and bodies enough, we were graced with some seasonable rain for the last 20km of the ride. At this point the cold water showering down on us may have helped numb some of the pain in my legs, and certainly added to our commitment to finish. Rolling across that finish line may have been one of the most satisfying feelings I've ever experienced. The day had brought both highs and lows, but the experience on the whole had been one to remember.    
The Gear
When preparing for this event, I must have exhausted every blog and forum post I could find trying to figure out my gear choice. Most riders (myself included) don't have the luxury of picking a new bike for each event, but in my experience there were three main gear choices that can make or break an event that I wanted answers to: tires, gearing, and clothes. 

Now gear choice is rather rider specific, what works for one rider often might not work for another. This usually comes down to what you want to get out of an event and what your strengths and weaknesses are on the bike. For me, I've spent decades on a mountain bike, and consider myself a very proficient technical rider. I know I'm quite comfortable "under biking" on terrain that others might not be. We also knew we weren't going to be anywhere close to the front of this race. On the win-survive spectrum our goal was much closer to the survival end.  
The Bike
My 2019 Trek Crockett was my bike of choice for this event. Perhaps not the most capable bike by 2022 standards, but it has seen many mountain bike trails and never let me down, so I wasn't concerned it would be up to the task.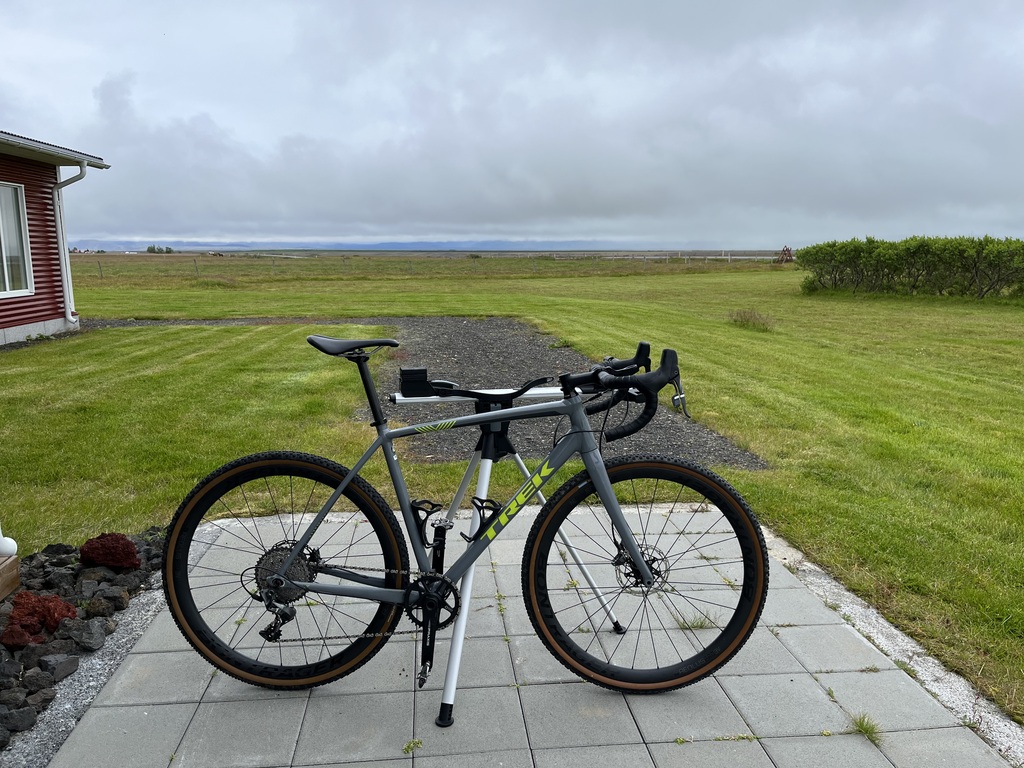 The Tires
Admittedly, I like to nerd out on tires, so this was a decision I spent more time on than anyone could justify. I chose the Rene Herse Steilacoom (38c), which on my wider Bontrager Aeolus Pro 3v wheels measured up to a chunkier width of 42mm. Based on what I had read, this should be a kind of sweet spot to eat up the chunky stuff and still roll well on the faster sections. 

Well, following the race, I can safely say that more tire would have been better. I had grip for days, but more volume would have been very appreciated to help take the edge of the rougher sections of the course. It's hard to fathom just how punishing some of the surfaces on this course can be on your body. I would have happily traded a little speed on the smooth sections for more comfort over the chunder. 
If I had to make a recommendation, I would be shooting for a minimum width of 45mm, but I wouldn't hesitate to go bigger. I don't believe tread choice will make or break this ride, so something fast rolling with some decent corner nobs should work quite well.     


Gearing
My gearing choice was quite simple as I ended up running my normal setup, a 40t front chainring with an 11-42t cassette. I've found a 1:1 ratio is typically enough for me on all but the steepest, loosest climbs, so I felt comfortable with this choice going in. 

In retrospect, this was a pretty capable choice, but perhaps unsurprisingly an extra climbing gear would have been appreciated at times. There were a couple notable climbs on course that are (I believe) unrideable, so you'll be hiking no matter what gear you choose. However, for a couple of the other climbs, an extra gear might have made the difference between walking and riding. At the very least it may have let me spin my legs just a little quicker to take the edge off.
At the other end of the range (going fast) I had zero issues. The fastest tarmac section on course comes after about 120km of the hardest terrain, and if you have enough in your legs at that point to push more than a 40:11 you certainly should be taking advice from me :)      
The Kit
I'll apologize in advance, because I'm not sure anything can be gleaned from my kit choice due to the extreme variability in weather you might expect in Iceland. Needless to say, the anticipated weather for this ride fits right in that zone between 5°-15°C (41°- 59°F) which I never know how to dress for. It's right in between regular summer kit and cold weather gear (coming from a Canadian, so take that for what it's worth). I brought pretty much every option I had, and decided to just figure it out on race day. Luckily for me we had two days and two rides leading up to the race that let me test out some kit options. This was a huge help, but I'm not sure everyone will have three days of consistent weather to dial in your choice.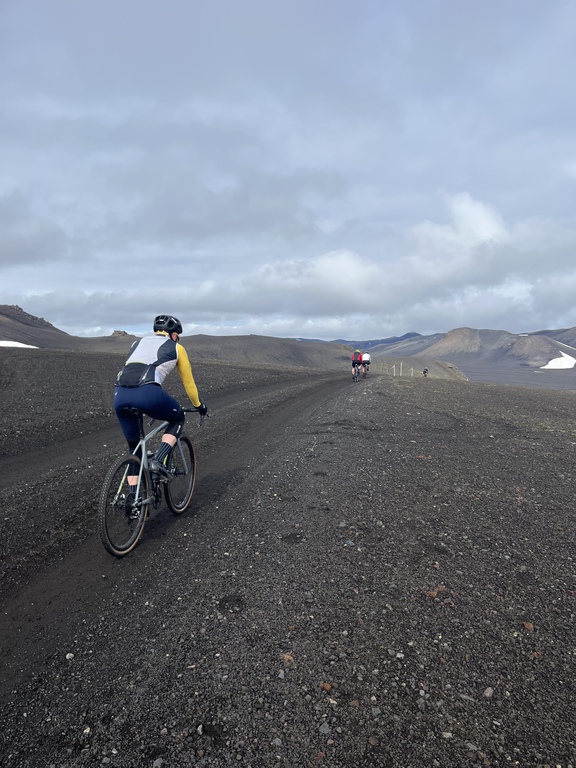 We ended up having what I believe was the best weather we possibly could have expected; no rain (until the end), very little wind, and temps in the 12°-15° range. Kit choice was as follows and absolutely perfect for me:
Velocio Luxe bibs
Velocio Signature long sleeve jersey
Endura Pro SL Gilet
Knee warmers (I'm a firm believer in no bare knees below 15°C)
Velocio Wool Socks (wool is the only choice for this ride)
Bontrager Velocis full finger gloves
The general takeaway on the day was just to embrace your feet getting wet, and move on. Those that opted for waterproof socks or booties were far more successful at keeping the water in than keeping it out.
My Fit
Perhaps unsurprisingly, my position on the bike was a consideration for this event. Given my recent recovery from achilles surgery, my lack of training/time on the bike, and the anticipated difficulty of the course, I opted for a slightly more forgiving fit than usual. I typically ride at the more aggressive end of my fit window (a Gravel/Performance fit goal with
MyVeloFit
), so I had lots of room to tweak this position as needed. 
What does this new position look like? Compared to my normal fit, I reduced my saddle height by 5mm and increased my handlebar height by 5mm. I used this position for several weeks leading up to the event to make sure it felt natural on the day. The goal for this was twofold:
To create a slightly more upright riding position, reducing the strain on my core and weight on my hands. 
Reducing my calf activation at the bottom of the pedal stroke (as my left calf still isn't back up to full strength).     
Did it work? I like to think so. My achilles felt great the whole ride, which was a major win and my greatest concern going in. My core/low back, which has a history of acting up on long gravel rides, was completely manageable. Did I come out feeling like a million bucks? Absolutely not, but all things considered I'm pleased with the outcome. 


Lessons Learned
This was an absolutely phenomenal day on the bike with way more lead up time than was initially expected or should ever be allowed for any event. It was a massive personal victory for me and an incredible experience. So for anyone considering tackling the Rift, I'll leave you with my few personal takeaways. 
Choose bigger tires. This course doesn't warrant the technical capabilities of a mountain bike for me, but the tire volume would have been nice. Going back and given the choice I wouldn't choose anything smaller than a 45mm, but your mileage may vary.  
Bring different clothing options. I honestly have no clue what you'll need on the day, but rain, snow, wind, sun, is all possible. Wear your most comfortable shorts, your favourite merino socks and figure out the rest the night before based on the forecast.
Think about your fit. If you're anything like me, this ride probably falls at the extreme of what you usually do, so don't assume your normal position is necessarily the best option. Taking some pressure off of your core/low back and hands with a slightly more upright position is likely to benefit most riders over such a long and taxing day on the bike.